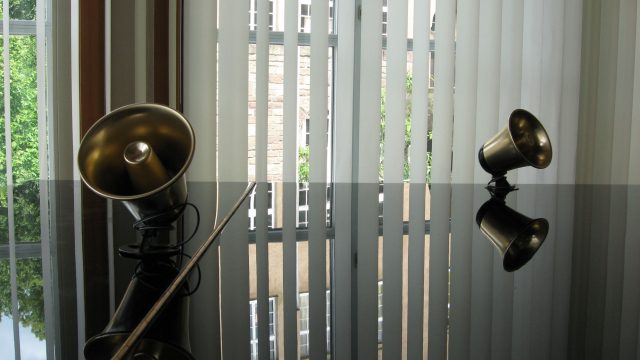 Road to Backnang
multichannel sound installation with horn loudspeakers and brass ensemble
premiere: Festival Zukunftsmusik, Backnanger Bürgerhaus, Fritz-Schweitzer-Saal, 2-10.10.2010
concept and composition: Mario Verandi
technical direction: Manfred Fox
catalogue text: Oya Erdogan
brass ensemble: Iris König (Horn), Nicole Morryson (Trompet), Max Sczuka (Trombone), Sebastian Frömel (Tuba)
with the participation of citizens of Backnang with migration background: a woman from Poland, a man from Guinea,
a woman from Turkey, a man from Finnland, a woman from Mexico, a man from Greece, a woman from Russia,
a man from Ireland, a woman from Letland, a man from Russia, a woman from Greece and a man from Portugal.
This work is inspired by stories told by people with migration background that live and work in Backnang. The installation aimed to create a metaphor to the different migration lines or stories that originated in different countries and converged and met in Backnang.Twelve different migration stories are told in different languages by twelve different Backnang citizens. The use of horn loudspeakers is metaphorically connected to the animal horn, which was used in ancient arial as a sound amplifier to make voices heard from distant places. In this sound installation different migration stories are heard. The stories belong to a far away past and are told to us through the horn loudspeakers. The horn loudspeakers are also related to the composition created for a brass quartet since the horn-shape concept and mechanism applies also to brass instruments.
"Längst ist die vormoderne Lebensform des Nomaden zur Metapher für ein gegenwärtiges Phänomen geworden: für den Jobnomaden. Vor vielen Jahrzehnten sind in Europa Menschen aufgebrochen in der Hoffnung, in fremden Ländern ein Auskommen für sich und ihre Familien zu finden. Viele von ihnen haben in der Fremde eine neue Heimat gefunden − sie und ihre Kinder sind Teil unserer Gesellschaft. In Gesprächen mit Menschen mit Migrationshintergrund, die in Backnang leben, sucht Mario Verandi die Geschichten einzelner Personen und ihrer Familien zu dokumentieren. Er öffnet dadurch den Blick auf einen Teil der Backnanger Gesellschaft, der sonst im Verborgenen bleibt; als Beitrag zur Archäologie der Gegenwart, den er in Form einer Klanginstallation zugänglich macht. Durch die Form des Hornlautsprechers verweist Verandi zugleich auf jene Tierhörner, die schon in der Antike genutzt wurden, um damit Stimmen von entfernten Orten hörbar zu machen. Hornlautsprecher symbolisieren auf diese Art die Wanderungsgeschichten der Migranten. Durch sie gelangen Geschichten aus einer fernen Welt in unsere Mitte. Einspielungen von Blasinstrumenten, die dem Hornlautsprecher der Form nach ähneln, ergänzen das Werk zu einer Klangskulptur, die den Taumel des Fremdseins und die Ungewissheit des Unterwegsseins auch in Backnang ins Bewusstsein hebt. Fremde sind wir uns selbst." 
by  Patrik Hahn
"Infame Fragen – Mario Verandi aus der Straße nach Backnang", text by Patrik Hahn (in German)