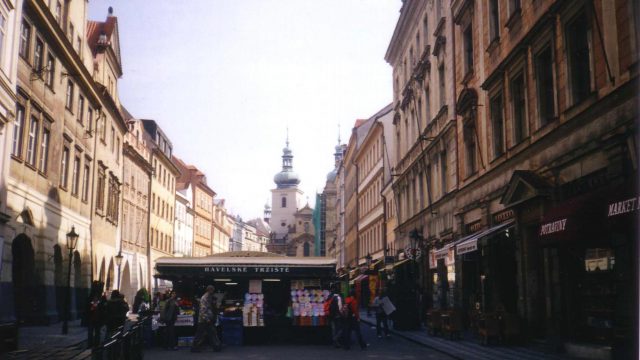 Prague – Imaginary Fragments
duration: 12min35sec
produced by Mario Verandi
premiere: Radiocustica, Czech Radio 3 − Vltava, 24.06.2006
editor: Michal Rataj
In April 2006 I spent a few days in Prague making sound recordings. Most of the recordings were made in two locations: The Royal Summer Palace, its Singing Fountain and surroundings as well as the Havelske street market and its neighbouring streets. Some more recordings were made in trams and subways.
The bronze Singing Fountain is situated in the garden of The Royal Summer Palace of Queen Anne which is in the east part of the Royal Garden. It was designed and casted by Tomás Jaros in 1564-68. When the water falls on the lower bronze bowl produces a particular bell-like sound which can best be appreciated directly under the wide lower bowl of the fountain.
In the Havelske street market people can buy vegetables, fruits, chocolates, typical Czech products as well as a wide range of wooden toys, puppets and table games. One can find here the typical Czech puppet witches that produce a characteristic laugh. Tourists usually crowd this market.
Additional recordings included the sound of objects found in the streets: metal objects falling on a metal sheet as well as plastic objects and metal wires. I also used a few sounds coming from a little bell, a violoncello string and a bass flute. These sounds were slightly edited and processed on the computer to create timbres and textures that helped in the structuring of the piece.
The sound composition focus on particular rhythms, timbres and textures found in the sound recordings and aims to create an imaginary narrative made out of real sounds and situations.
Prague – Imaginary Fragments was selected by Czech Radio 3 for the 2006 EBU (European Broadcasting Union) Listening Proposals.
A talk with Michal Rataj
"When you come to a new city, what you immediately hear as a completely new sound is a foreign language. Only then will you begin to become aware of other specific sounds and soundscapes of that place. Of course, today's big cities have many sounds in common, but it is still possible to find some sounds that represent or are characteristic of each such city.
I recorded most of the audio material for this composition mainly in two places: in the surroundings of the Royal Summer Palace at Prague Castle and on the Havel Market and in the streets around it. I made other recordings in the Prague metro and trams.
The sound of the singing fountain in the Royal Garden near Prague Castle was very new to me. At the Havel market, I was again very interested in the color of the sound reminiscent of laughter, which is produced by the toy of a small faucet. It's a sound I've never heard before.
The words "fragment" or "fragmented" can have different meanings. When I use the word "fragment" in the title of my piece, I am referring to a small part of something that is not complete by itself. At least that's what the dictionary entry says. In relation to my composition, this means that I work with selected sounds and not with the entire soundscape of Prague. It's like photos from several parts of the city, but not a picture of the whole city. The word "fragmented" or "fragmented" then means composed of small parts that are not interconnected. Again, this is a dictionary definition and not valid for my composition as all the sounds obviously belong to the same city. The individual fragments in my composition are like layers that bind very strongly to each other."
| | |
| --- | --- |
| | |