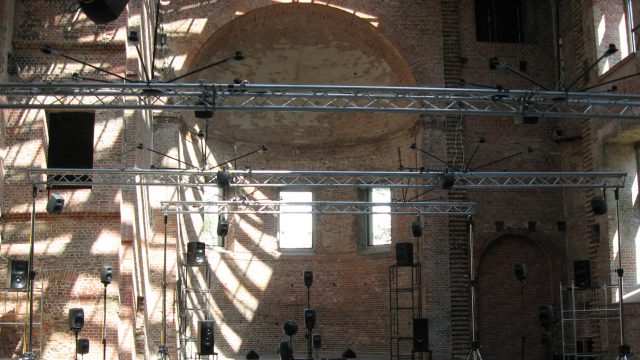 Comme un jeu des images
duration: 12min50sec
premiere: Inventionen Festival, Elisabeth Kirche, Berlin, 28.05.2006
During the years 2002 and 2004 I made sound recordings in an Italian style opera theater built in 1908 in San Nicolás (Buenos Aires). My interest in this theater stems from the fascinating sounds produced by some machinery, objects and devices that have not been replaced since the old times. For example, the mechanisms that put up and down the front curtain and move the wooden scenery. I also made recordings of old seats and doors, of an old metal staircase, of parts of the wooden stage and of wardrobes and drawers in the changing rooms.
In 2005 I created a radiophonic piece in which these sound recordings were almost not manipulated or processed. For the creation of Comme un jeu des images, I wanted to take the same sound material to a more musical abstract level. My aim was to move from the original theater sounds towards abstract textures generated through computer processing and manipulation. The composition process consisted in the combination of particular rhythms, timbres and textures to construct a musical continuum of sound images.
Comme un jeu des images is dedicated to Folkmar Hein.
---
All works © SGAE, Mario Verandi