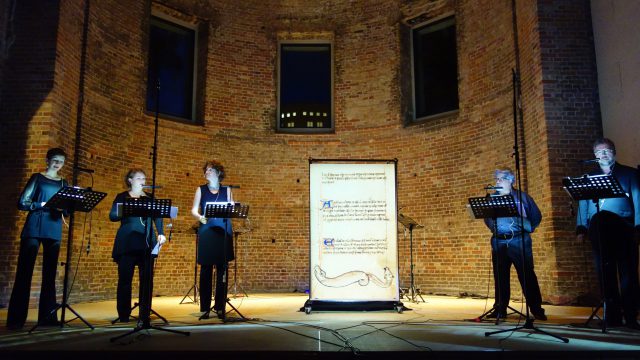 Klangbuch der imaginären Wesen (Soundbook of imaginary beings)
version for 5 voices and video projection
Voices: Neue Vocalsolisten Stuttgart
Video: Sofía Otero Álvarez
Technical assistance: Edgardo Rudnitzky
Premiere: mikromusik festival experimenteller musik und sound art at the St. Elisabeth Kirche, Berlin, 4.9.2016
futher performances: Real Time Voices, Theaterhaus, Stuttgart 10.9.2016
In his "Libro de los seres imaginarios" (Book of imaginary beings) the Argentiniean writer Jorge Luis Borges explored ancient Bestiariums to compile a handbook of fantasy creatures conceived through time and space by the human imagination. Taking Borges's book as a source of inspiration, I created in 2006 a radio piece using vocal recordings made with the Neuen Vocalsolisten Stuttgart. A year after, in 2007, I further developed the original concept and created a sound and video installation that was presented during the Donaueschinger Musiktage. This year I had the opportunity to explore anew the original concept and wrote a piece for five singers of the Neue Vocalsolisten ensemble. The piece explores imaginary soundworlds for five fantasy creatures: der Drache, Die Amphisbaena, der Greif, der Basilisk und die Leukrokota.